Maybe you've always dreamed of being a lawyer and owning your own firm.
But is that ALL?
As entrepreneurs, we are dynamic, multi-faceted people. And while you might love what you do, odds are, you have goals that go beyond case work.
Our members have written books. They chair their favorite organizations. They do pro bono work for charities they are passionate about. They teach CLE's or become the president of their Bar Associations.
How likely is it that any of those things are going to happen for you when you are drowning in paperwork and working too many hours for not enough money? Not very likely. Because you're already maxed out and for what!?
A successful law firm isn't defined by revenue alone. It is also defined by the choices and opportunities that a good reputation, predictable revenue, visibility and free time afford you.
Take a look at this video and then be sure to download your free copy of the manifesto here.
This is how it all starts. By adopting a new set of principles that steer your focus towards growth, leadership and FREEDOM.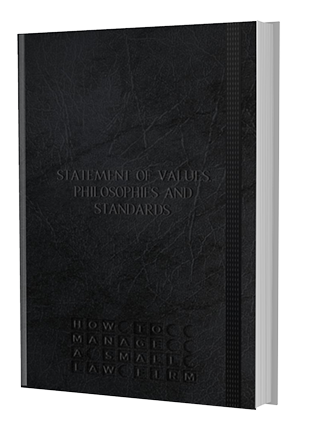 The Manifesto:
Statement of Values
The HTM Manifesto is a bound booklet explaining the values and principles that have been responsible for millions of dollars in growth for thousands of law firm owners all over the country. It is the sacred text that acts as the foundation of the very "bubble" that will help YOU manifest your goals and change your life.

Ready to fast track your law firm's growth?
Schedule your complimentary appointment now and find out which of our programs is right for you!
Schedule an Appointment