So special, in fact, that we have our own manifesto for small law firm owners with entrepreneurial mindsets, outlining How to Manage a Small Law Firm's core values.
Because here, we think differently. Here we are committed to cultivating a success mindset that rallies against the "doctrine of sacrifice" that so many law firms subscribe to.
This ridiculous doctrine implies that lawyers should lead miserable lives in the name of "self-sacrifice" as though a miserable lawyer can make a bigger difference than a happy one.
Here we believe that your law firm should support the lifestyle you want to live and should act as your vehicle to FREEDOM. Isn't that why you started your own firm in the first place?
It is essential that you learn to follow the principles of growth in this manifesto if freedom, leadership and abundance are core values that you want to live by.
You do not have to choose between making a difference and a living. You do not have to choose between your firm and your family.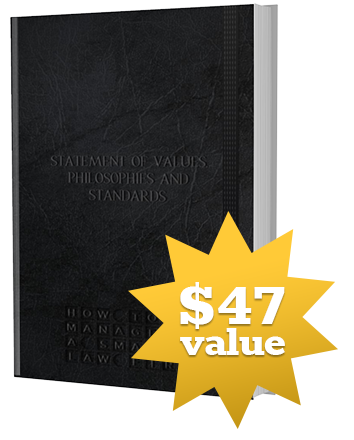 As a welcome gift to this community, we are going to send you a physical copy of this book, which is typically worth $47.
Truthfully, our intention in doing so is two-fold.
We genuinely value your presence and the steps you are taking to grow your firm.
But in addition to that, we know that if you read this manifesto, are moved by it and are excited by the possibilities it stirs in you, then you likely belong in our community and we cannot wait to meet you!
Inside you'll learn:
How to retrain your brain to plan for and expect success
The secret to cultivating the same "no excuses" mindset that millionaires use to consistently succeed
The no-fail plan that blends personal growth with revenue growth so that your business becomes the vehicle to the lifestyle you want to live

Wherever you are right now, this short manifesto is a guidebook to eliminating your roadblocks to success and building your own ladder to the impact and income you want to make. Every single member of our Million-Dollar-Club started by reading this book. Get your complimentary copy and start your journey.