[av_one_full first av_uid='av-r7v1b8′]
[av_image src='https://howtomanageasmalllawfirm.com/wp-content/uploads/2016/08/inc5000_tag-twice-1.png' attachment='38829′ attachment_size='full' align='center' styling=" hover=" link='manually,https://www.inc.com/profile/how-to-manage-a-small-law-firm' target=" caption=" font_size=" appearance=" overlay_opacity='0.4′ overlay_color='#000000′ overlay_text_color='#ffffff' copyright=" animation='no-animation' av_uid='av-qbd744′ custom_class=" admin_preview_bg="][/av_image]
[/av_one_full]
[av_section min_height=" min_height_px='500px' padding='small' shadow='no-shadow' bottom_border='no-border-styling' id=" color='main_color' custom_bg='#115085′ src=" attachment=" attachment_size=" attach='scroll' position='top left' repeat='no-repeat' video=" video_ratio='16:9′ overlay_opacity='0.5′ overlay_color=" overlay_pattern=" overlay_custom_pattern=" av_uid='av-nvsz6c']
[av_three_fifth first av_uid='av-lo5tl0′]
[av_codeblock wrapper_element=" wrapper_element_attributes=" av_uid='av-kihwo4′]

[/av_codeblock]
[/av_three_fifth][av_two_fifth av_uid='av-izalgk']
[av_codeblock wrapper_element=" wrapper_element_attributes=" codeblock_type=" av_uid='av-hyq5hg' custom_class="]

[/av_codeblock]
[/av_two_fifth][av_codeblock wrapper_element=" wrapper_element_attributes=" av_uid='av-f92f4k']
[/av_codeblock]
[/av_section][av_image src='https://howtomanageasmalllawfirm.com/wp-content/uploads/2015/12/4stages-HTM-graphic.jpg' attachment='34112′ attachment_size='full' align='center' styling=" hover=" link=" target=" caption=" font_size=" appearance=" overlay_opacity='0.4′ overlay_color='#000000′ overlay_text_color='#ffffff' animation='bottom-to-top' custom_class=" av_uid='av-dg8bck'][/av_image]
[av_textblock size=" font_color=" color=" custom_class=" av_uid='av-cb3h5w']
This program may be just what you've been looking for, if your law firm already grosses less than $500,000 but at least $250,000 and this law practice is all too dependent on you being there every day.
Lawyers who enroll in this program come from all walks of life and from all across the Country. They join with this law firm management advisory program to learn "how to".  And just as importantly, get help implementing their new skills and upgrade to a more sustainable business model that liberates them from the day-to-day minutiae.
This way you can finally focus-on, what you likely suspect you must focus-on, in order to reach $500,000 in revenues. Without just working harder.
A "side-benefit" of this program is the camaraderie you will enjoy by being around other entrepreneurial lawyers like yourself.
And the peace of mind and confidence that comes from knowing that if have to step-away from your law firm for a little or a long time it's going to be able to keep-on-going (and growing) even without you.
[/av_textblock]
[av_image src='http://dev.howtomanageasmalllawfirm.com/wp-content/uploads/2014/09/target-e1431356190555.png' attachment='32216′ attachment_size='full' align='center' animation='bottom-to-top' styling=" hover=" link=" target=" caption=" font_size=" appearance=" overlay_opacity='0.4′ overlay_color='#000000′ overlay_text_color='#ffffff' av_uid='av-ay27s4′][/av_image]
[av_section min_height=" min_height_px='500px' padding='no-padding' shadow='no-shadow' bottom_border='no-border-styling' id=" color='main_color' custom_bg='#105080′ src=" attachment=" attachment_size=" attach='scroll' position='top left' repeat='no-repeat' video=" video_ratio='16:9′ overlay_opacity='0.5′ overlay_color=" overlay_pattern=" overlay_custom_pattern=" av_uid='av-94sog4′]
[av_three_fifth first av_uid='av-7v6g2s']
[av_codeblock wrapper_element=" wrapper_element_attributes=" av_uid='av-6ay9pg']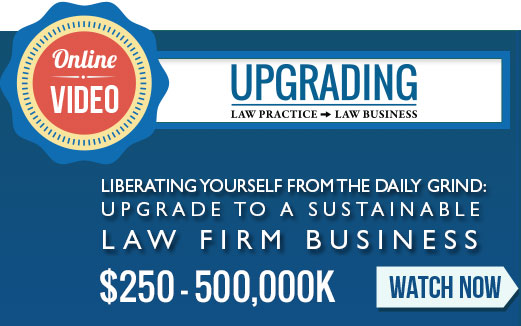 [/av_codeblock]
[/av_three_fifth][av_two_fifth av_uid='av-4hw0pw']
[av_codeblock wrapper_element=" wrapper_element_attributes=" av_uid='av-353res']
[/av_codeblock]
[/av_two_fifth]
[/av_section]