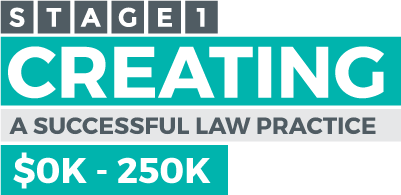 CONGRATULATIONS
You've joined the ranks of the small percentage of lawyers who not only value freedom but have the courage to pursue it. You didn't start this business to just scrape by. You had a vision of professional and financial freedom. It's time to make it happen.The average salary for a solo attorney in the U.S. is less than $55,000 a year. And you didn't start this business to be average. You obviously know that your potential is much greater than that
DOWNLOAD YOUR FREE REPORT
BUT RIGHT NOW, IT'S TOUGH.
You're probably feeling a little isolated. Making a lot of apologies to a lot of people including your spouse and family. Working way too many hours to just be surviving dollar to dollar, by the skin of your teeth. And realizing that law school didn't teach you shit about running your own business.
YOU'RE IN THE RIGHT PLACE.
We can help. In fact, we're famous for it. We've helped hundreds of solo and small law firm owners double their revenue in 18 months by showing them how to build their firm around the basic principles of business growth. You are not just a lawyer you are an entrepreneur. And it's time to start running your firm like a business. Whether you're stuck, frustrated and tired of doing everything alone, or you're steadily growing but ready to move faster, you need a strategy that is aligned with the stage of growth you're currently in.
"Despite making over a million dollars in revenue in 2019, I was effectively broke. I was taking home less than 10% in take home pay. [After investing in How To Manage] I doubled my take home pay! Life is now much more stress-free!"
-Douglas Rohan, Rohan Law P.C., Atlanta, GA
Download and read this FREE report on the SIMPLE, PROVEN steps you can start implementing right away to jump to $250,000.00 in revenue.
Once you read this report, you'll understand exactly why it's all felt so hard up until now.
And if you're like most of the law firm owners we work with, you'll hit the $250k mark and DOUBLE that revenue in about 18 months.
THIS IS HOW YOU WILL FINALLY GET TO $250,000.00 IN REVENUE AND CONSISTENTLY GROW EVERY QUARTER
Stop wasting time on tasks that are never going to positively impact your bottom line and start putting the right steps in the right order.
It's the fast track to freedom. And freedom was the reason you started your firm in the first place.