GROW TO CONSISTENTLY $500K PLUS IN ANNUAL REVENUE
IN THE NEXT 18 MONTHS!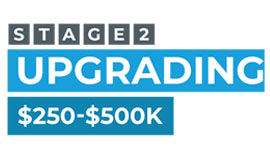 WHILE YOU GO FROM OVERWHELMED TO LEGITIMATELY THRIVING WITH A TEAM THAT SUPPORTS YOUR FIRM'S GROWTH (INSTEAD OF EATING YOU ALIVE)
Scary news flash that most small law firm owners would like to ignore:
YOU CAN NOT BUILD THIS FIRM ALONE!
You need a team.  There is just no way to grow beyond a few hundred thousand dollars in revenue working less than 80 hour weeks if you don't have any staff.
So … you need a team to help you grow your firm so that the firm can actually serve you financially, personally, and professionally.  Without them, you'll be shackled to the business and unable to break through your current income barrier.
You may have already hired one or a few staff members, but you've probably figured out fast that having them is a lot of work for you.  That's because you don't have a system for finding the right people, for inspiring their best work, or for optimally leveraging their time and talents.
In other words, now that you've hired help, they are likely eating you alive with their questions!
Maybe you're giving them the right answers when they ask their 12-20 questions per day.  Or maybe you have no idea how to answer their questions.  Yet how you answer their questions has a significant impact on the trajectory of your firm. 
Will it grow beyond this overwhelming, time-sucking (or perhaps soul-sucking) phase?  Or will you be enslaved to the firm?  Strapped to your team who can't move a muscle without you?  And doomed to spend more time working in your business than you ever thought you would, all while you remain maxed out in under $500,000 revenue.
You don't have to stay in this danger zone.  And it seems that since you're here today, you know this already.  Great!  Now what?  How in the world are you going to go from overwhelmed with your team eating you alive, to a thriving practice that is consistently earning $500k PLUS in the next 18 months?
We spell it all out in detail in the "How Your Solo Practice Can Systematically Grow Beyond $500,000 In Revenue While You Spend Less Time Dealing With Your Staff" report.  This is THE ANSWER, like it or not, to what ails you and your firm right now.  And whether you use our help to get beyond your current overwhelm or not, you'll need to follow the steps outlined in this report if you ever want more.
THIS REPORT DETAILS THE STEPS YOU'LL TAKE TO GET THERE.
CLICK ON THE LINK BELOW TO DOWNLOAD IT AND READ IT NOW.