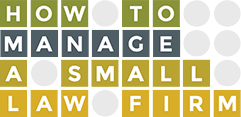 SPECIAL CORONAVIRUS REPORT
is on it's way to your inbox!
In the meantime, be sure to register for
HOW TO GROW YOUR LAW FIRM FROM HOME
WITHOUT LOSING YOUR MIND!
A NEW FREE WEEKLY SERIES FROM HOW TO MANAGE A SMALL LAW FIRM.
What was once an option is now a necessity! 
With the current crisis our world is facing, business is going DIGITAL.
The good news for small law firm owners is that it's not only possible to run and grow your law firm from home, but there's already a road map for you to follow.
Every week, we'll be sharing interviews with small law firm owners whose firms who are having massive success running their firms from home. They are going to tell you exactly how they do it, how they manage staff, how they work with clients and how you can easily pivot to a virtual firm model.
This is VITAL if you want to stay in business right now, and it might just end up being the best move you've ever made.
Click below to get all of the information you need to take your firm VIRTUAL!
We'll be covering topics like:
Tech support and how to engineer your office to run smoothly from ANYWHERE
Profitably communicating with your suddenly virtual staff
Policies and procedures you can steal to make the transition easier for your whole office
Shifting from face to face client relations to digital without missing a beat!
And much more.
You worked hard to build your law firm. Now protect it by learning to go virtual. Your clients, staff and loved ones are counting on you.
Go virtual, stay profitable. Register now!