DIVERSITY & INCLUSION LISTENING SESSIONS
On Sunday April 25, 2021 I stood on stage and made a commitment to figure-out a plan.
The commitment I made to all of you and to everyone on my own Team the next day, was to "make things right".  And "prevent something like this from happening again".
But the commitment I quietly made to myself was to learn, and to grow, and to turn the big problem that had just occurred, into a big opportunity for anyone who would join me, to make the world a better place.
To that end my Team and I have been busy.
During the past 30 days we have researched and vetted many diversity equity and inclusion ("DEI") experts to help all of us who are willing, to become more culturally-competent in the workplace. And in other areas of our personal and professional lives as well.
Our goal is to not only raise awareness but learn practical strategies and techniques we can implement to recognize, respond-to and effectively-disrupt these behaviors in ourselves and others.
The financial, personal and professional benefits of this training and heightened awareness are too numerous to mention here; but most of all. . . it's the right thing to do.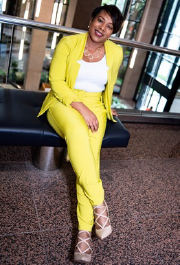 INTRODUCING KELLY CHARLES-COLLINS
After several "no-holds-barred" in-depth conversations, we have selected Kelly Charles-Collins to be our guide.  Kelly is a powerhouse attorney, consultant, speaker, trainer and nationally recognized authority on the subjects of recognizing the unconscious biases we all have, bystander intervention and courageous conversations in the workplace and in the rest of our lives, too.
Kelly has the unique ability to make difficult and sensitive topics more approachable.  She not only cares deeply about educating others, but she is also very committed to creating sustainable behavioral change.
Kelly will conduct strictly-confidential and 100% voluntary listening sessions with you, our members to hear from them how recent events have affected you, and to learn if there have been other incidents we've been previously unaware of that need to be addressed.
Kelly who is a master at creating a safe and encouraging space and helping people have courageous conversations.  The goal of these listening sessions is just that, to ask non-leading questions, and to listen and to learn from each of you.
Kelly has been given and I hereby repeat my personal assurances that neither I or anyone else from my team will ask for nor be provided reports from Kelly other than overall, general, trends, etc.
YOUR SAFETY AND PRIVACY ARE CRITICAL TO THE SUCCESS OF THIS INITIATIVE.  And we really do want NEED to hear from you!
These listening sessions are designed to give you an opportunity to express your feelings, ideas, and concerns so that Kelly can design "Phase II" which is anticipated to be a series of training programs based on input she receives from our Team and from you, our Members too.
You don't need to know ahead-of-time what you want to say.  Kelly will ask.  You will have no trouble knowing what you want to say in response.
REGISTER FOR YOUR LISTENING SESSION
Space is limited in the sessions so please only select ONE session so we can be sure all members have an opportunity to be heard.
I understand that doing so may result in my not being invited back, termination of any program I may be enrolled in without refund and the general scorn and disdain of my fellow participants who are each depending on my discretion, as I am theirs'.
Tue June 15, 2021
12:00-1:30pm EST
Wed June 16, 2021
2:30-4:00pm EST
Wed June 30, 2021
5:00-6:30pm EST
We value your input and as we embark on this journey, we hope you will take this opportunity to lend your voice and unique point-of-view to these very important issues.
My whole Team and I remain committed your success.  And part of that is ensuring that you have the necessary skills and awareness to not be faced with the inevitable consequences of evading reality when (unfortunately not "if") unacceptable behavior crosses your path to success, in the future.
~ RJON