HOW TO GROW YOUR FIRM BEYOND $500,000 IN ANNUAL REVENUE WITH A PROFITABLE A-TEAM
When you're on your journey to growing your small law firm, your staff might be the very best people that help you get S#!+ done everyday… Or, they suck your time out of you and leave you feeling like you'd rather do it all yourself. But, you know that you simply cannot do it all yourself. You also know that a lot of the time when your staff isn't producing the results you expect, you are mostly to blame as the leader of your law firm.
As the leader of your team, you should be hiring, training, and developing only the best employees, and making them a profitable asset for your firm. How do you do this? Very simple.
Policies. Systems. And, PROCEDURES.
You must be documenting how the work in your law firm gets done, and then build systems and procedures for your staff to follow. Not doing this could result in your law firm running inefficiently, spending more time away from your family… or even worse, a malpractice claim or bar grievance!
Download the Free E-Book by filling out the form on the right, and learn how to manage a profitable team that will give yo back more time and energy.
GET YOUR FREE E-BOOK TODAY & DISCOVER HOW TO GROW YOUR LAW FIRM BEYOND $500,000 IN REVENUE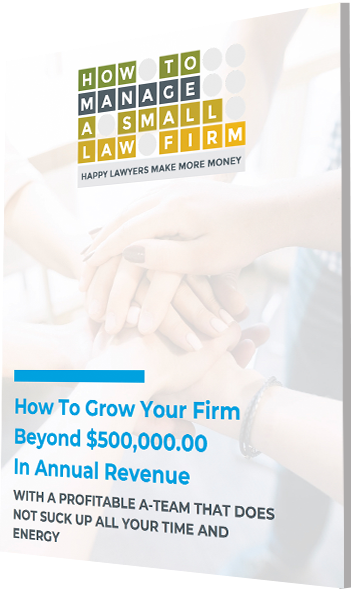 In This Free E-Book, You'll Learn How To:

Develop Policies For Your Law Firm
The best way to have a law firm that runs the way you want it to, even when you're not there, is by creating policies for your staff to follow. There must be policy for every facet of your law firm – from parking to answering phone calls.

Ensure That Procedures Are Being Implemented
Policies are documented so that procedures can then be put in place according to such policy. It is critical that appropriate procedures are then implemented and followed by every staff member – only then will you be able to know the difference between a good and bad employee.

Leverage Talents Of Your Firm's Employees
You hired your employees for a reason. It's time to train them, and put their smarts to good use. Your firm's policies and procedures should provide guidance for them to do the work asked of them, to your standards.
Fill out the form above & learn how to: 
Grow Your Firm Beyond  $500,000 In Annual Revenue, With A Profitable A-Team