THE 3 PART SIMPLE SOLUTION TO QUICKLY GROW YOUR FIRM TO $250,000 IN ANNUAL REVENUE
Running a small law firm doesn't have to be as difficult as you think it is. In fact, our Members will tell you that once they implemented the proven and tested systems introduced How To Manage A Small Law Firm – some of the very same systems you'll find in this free report – they doubled their revenues in just about 18 months… And even less!
It all begins with defining your law firm's goals, and creating a plan for how you will achieve them. There isn't any fancy shmancy technology behind it, and you don't need to have a formal business education.
Download the Free E-Book by filling out the form on the right, and discover the 3 simple steps that will help you double your revenues.
GET YOUR FREE E-BOOK TODAY & DISCOVER THE 3 PART SIMPLE SOLUTION TO GROWING YOUR LAW FIRM!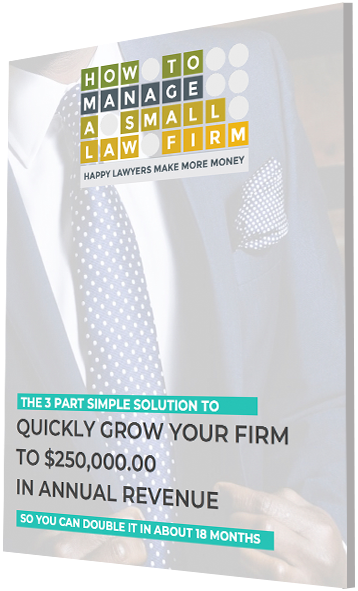 In This Free E-Book, You'll Learn How To:

Develop a Business Plan for Your Small Law Firm
No investor would invest in a business without a solid business plan, that outlines how the firm will run and produce money, right? Why would you run a law firm without these same principles?!

Design a Marketing & Sales Strategy for Success
Your marketing and sales strategy need to be clearly defined in your business plan, and should set your law firm up for growth. Create a marketing and sales strategy that will convert more clients, and make your more money.

Systemize you business so it can run without you
You won't be able to do it all. Every step you take on your journey growing your law firm needs to be documented and a system should be put in place, so that eventually your staff can run your firm for you… Exactly how you want it to be running!
Fill out the form above & learn how to:
Quickly Grow Your Firm To $250,000 In Annual Revenue