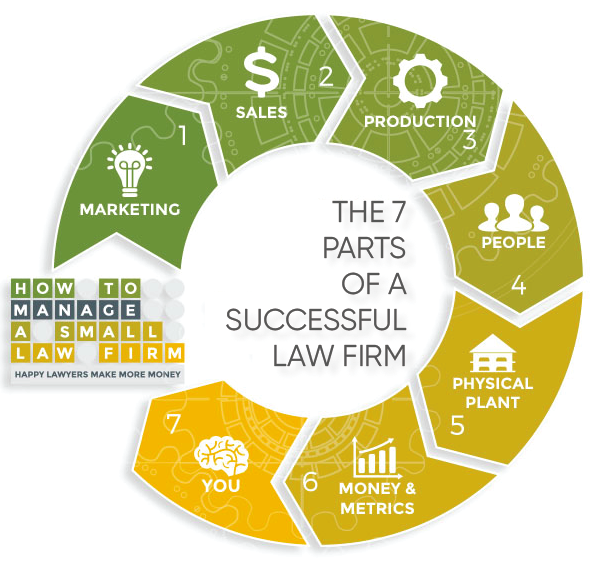 THE 7 MAIN PARTS OF A SUCCESSFUL LAW FIRM
How They All Work Together to Make a Profit in Your Law Firm
Join RJon Robins and Discover the 7 Main Parts of a Successful Law Firm
Tuesday, Sept. 18 | 3 PM ET / 12 PM PT
Every law firm has 7 Main Parts that work together to make the firm massively successful, more enjoyable for the owner to run, and wildly profitable.
However, in so many small law firms — regardless of size or practice area — law firm owners don't recognize that all 7 of these parts must be working together to achieve success… Can you blame them? After all, there was no course on 'How to Run a Small Law Firm' in Law School.
And when these 7 Parts are not aligned, most law firms function chaotically, leaving so many struggling lawyers in despair about their law firm businesses.
Make no mistake that these 7 Parts are what is either driving your law firm forward or holding you back from reaching your personal, professional, and financial goals. And it doesn't matter how successful a law firm is, or how much it is struggling… There are only 7 Main Parts of A Law Firm that are creating either result.
Sign Up NOW to get the call details for the teleseminar coming up on Tuesday, Sept. 18 at 3 PM ET / 12 PM PT
On the Teleseminar you'll discover:
HOW TO DEFINE THE GOALS OF YOUR LAW FIRM
HOW EACH OF THE 7 PARTS OF A LAW FIRM WORKS TO ACHIEVE YOUR GOALS
THE SECRETS TO MAKING EACH OF THESE 7 PARTS PROFITABLE
… And so much more!
Your host, RJon Robins (Founder & CEO of HTM) will be walking you through EACH of the 7 Main Parts of a Successful Law Firm. That means that during this 90-minute teleseminar he'll be discussing:
Marketing – Getting more of the right clients to your door & keeping the wrong ones out
Sales – How to convert more prospects into paying clients
Production – When, how & why the work in your firm gets done the way it does
People – How to make a profit with your staff
Physical Plant – Everything you need to run your law firm (office, computers, desks, internet, etc.)
Money & Metrics – Running your law firm by the numbers so you can have more control
YOU – How your law firm is serving you: Professionally, personally & financially
Keep in mind, RJon runs entire workshops on each of these 7 parts for our Members who must pay a fee to attend. In the 90-minutes you'll spend on the teleseminar together, he will be sharing some of the most valuable parts of those workshops with you.
And because he usually does, RJon will likely share a BONUS Lesson from our most recent Million Dollar Solo Lawyer's Club Meeting.
So don't delay in registering, because conference lines are limited to just 100!
Scroll Up to Register!