ATTENTION SOLO LAWYERS WHO WANT TO HAVE A MORE SUCCESSFUL LAW FIRM:
If you ask a hundred lawyers who have built a hundred different, highly-successful law firms from scratch, " What's The #1 Skill You Had To Learn To Have The Law Firm You Enjoy Today? "
…there's ONE SKILL above & beyond all the rest that will come-up again & again & again.
You are about to discover the "secret" of building a highly-successful solo/small law firm…without the anxiety, without the worries and without the debilitating self-doubt that HOLDS MOST LAWYERS BACK from ever achieving REAL SUCCESS at the business of running a law firm.
In the first 5 minutes of this very special two-part webinar you will see EXACTLY what the # 1 Skill is, that you MUST learn (and master), if you want to have a highly-successful small law firm of your own:
…WITHOUT all the self-doubt and the sleepless nights;
… WITHOUT wasting your time on so much "busy work" that you you already KNOW is never going to help you reach your goals in life or in business;
… AND WITHOUT worrying every day (and sleepless nights) about how you are going to be able to provide your family with the life you want to give them, without killing yourself in the process.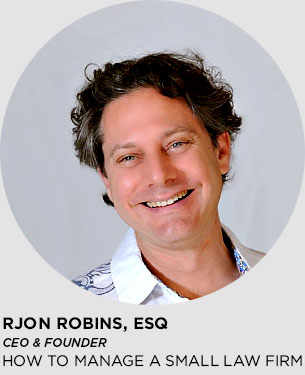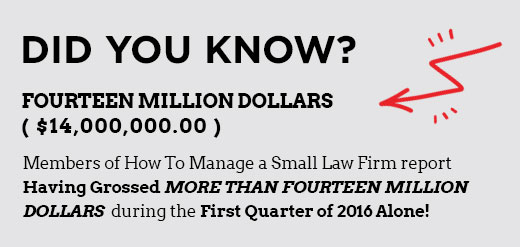 Hi, my name is RJon Robins and I'd like to invite you to attend a very special two part webinar event titled:
" THE #1 SKILL LAWYERS MUST LEARN TO HAVE A SUCCESSFUL SMALL LAW FIRM "
Tue May 10th & Wed May 11th from 12:30pm to 2pm EST
And let me get this out of the way right up front. No, you don't have to build a million-dollar firm, in order for it to be "successful" in MY book.
Does your law firm throw-off enough profits, and consistently-enough for you to live with confidence, the way you really want to be living… without having to make painful compromises?
Does your law firm operate efficiently-enough to afford you control over your time, so you can "Have A Life"…and share it with the people who matter the most to you?
Does your firm enable you to spend most of your time doing work that inspires you and makes you a better person…or are you constantly being interrupted or bogged down because you're always putting out annoying fires and "riding to the rescue" for issues that, if we're being completely honest, don't really matter that much to you personally or professionally?
Before we're more than 10 minutes into this very unique 2-part webinar I'll spell-out for you The Exact Difference between how most of the very successful small law firm owners I've worked with tend to define success vs. the way most lawyers who struggle year-after-year with their law firms think about success. This simple difference might surprise you!
Within 15 minutes you'll have enough confidence to give what I'm going to share with you, at least the benefit of the doubt. Not only because what I'll be sharing with you will make perfect sense, but you'll also learn about How and Why so many THOUSANDS of solo and small law firm owners around the country have turned to me when the time finally came for them to get serious about transforming their struggling (or profitable but punishing) law "practice" into a highly-profitable, comfortably-predictable, safely-sustainable and even a "fun" business they could be proud to own and operate.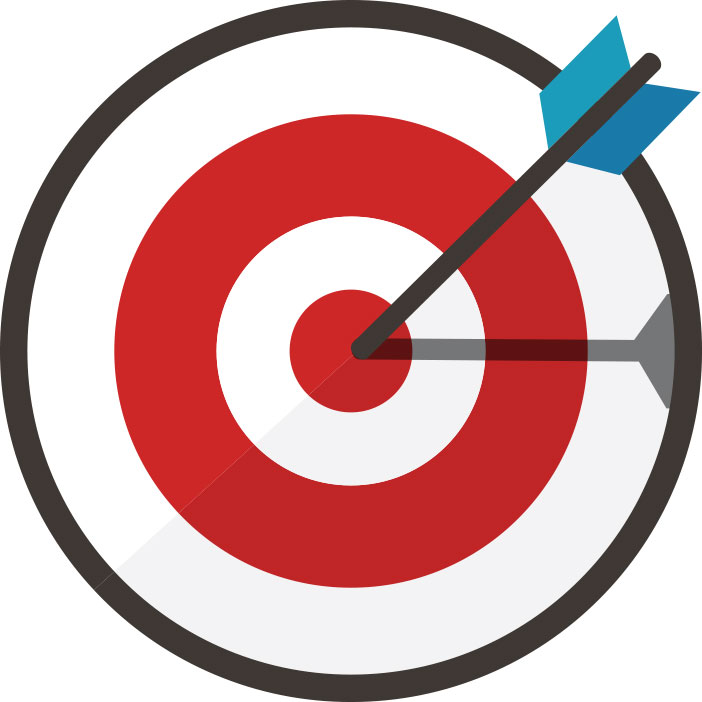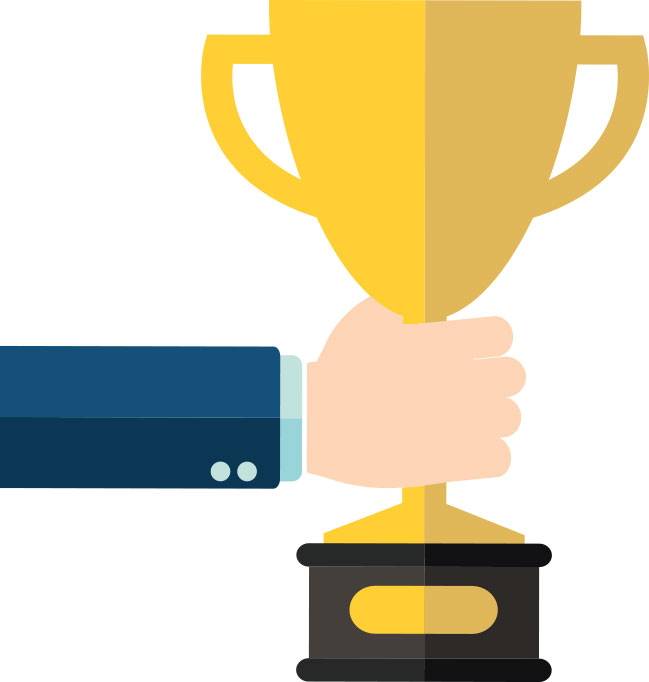 There's a very good REASON (thousands, really) why How To MANAGE a Small Law Firm has become the nation's leading provider of outside managing partner services exclusively for solo & small law firms. Don't take our word for it, Inc Magazine ranked our firm one of the 5,000 fastest growing privately held companies in the whole country for 2015. No other firm that does what we do even made the list!
DURING THIS TWO-PART WEBINAR I'LL SHOW YOU:
THE # 1 SKILL THEY DON'T TEACH US IN LAW SCHOOL THAT PREVENTS SO MANY OTHERWISE QUALIFIED LAWYERS FROM BUILDING SUCCESSFUL LAW FIRM BUSINESSES.
THE YES OR YES PRINCIPLE™ .
Using it, will revolutionize how you run your law firm and will allow you to achieve high-velocity results like so many of our Members around the Country!
THE 4 STAGES OF GROWTH™ THAT EVERY LAW FIRM MUST NAVIGATE ON YOUR JOURNEY FROM START-UP TO 7 FIGURES.
Figure out where your firm is NOW so you can begin moving in the right direction, instead in the wrong direction or even in circles!
HOW OWNERS OF MILLION DOLLAR SOLO LAW FIRMS MAKE DECISIONS.
Get a sneak peak behind the curtain of how the owners of million dollar solo & small law firms:
->Put on their pants (one leg at a time, just like you);
->Represent their clients (zealously, just like you);
->Love their kids (madly, just like you);
->Make decisions about their business – Unless your firm is grossing at least $83,333 per month, this is probably where you differ.
WHAT MISTAKES TO AVOID IN ORDER TO MASTER THIS NEW BUSINESS SKILL.
Don't let any blind spots get in the way of your successful law firm.
If you are serious about wanting to learn the #1 SKILL solo lawyers with struggling law firms are missing, which holds their business back from rapid and enjoyable growth, register now for this special event that will show you exactly how to build a successful law firm no matter your area of practice.
WARNING: Space is limited and these LIVE trainings always fill up. First, because they're awesome. And second, because they're highly-interactive. Each part of this unique 2 part webinar will be divided between action-packed, teaching, tools and tactics (No "Strategy"!!!) and LIVE Q & A. This webinar will be no exception and space is sure to fill-up fast.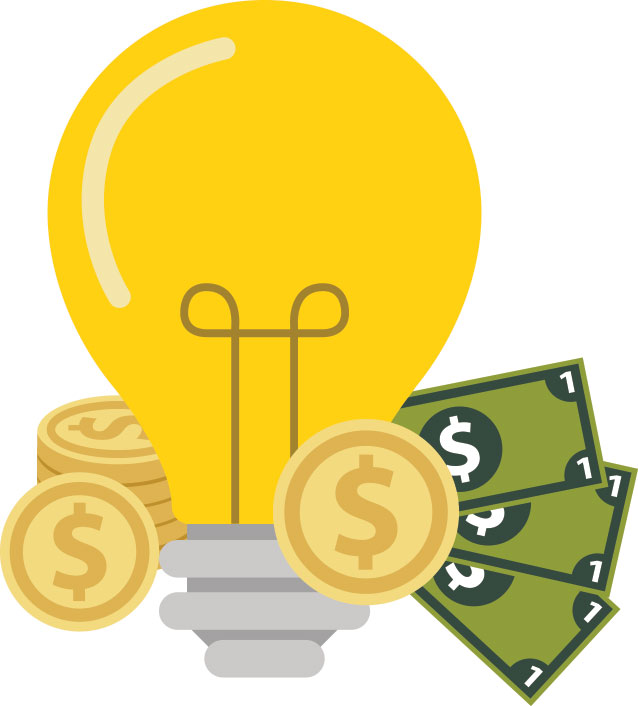 REGISTER NOW SPACE LIMITED
CURIOUS WHAT PEOPLE ARE SAYING?
REGISTER NOW SPACE LIMITED
YOU DON'T NEED
MORE TIME, YOU JUST
NEED TO DECIDE
Seth Godin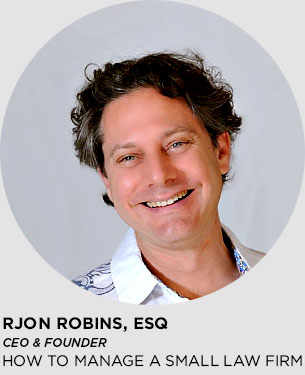 In 2015 How To MANAGE a Small Law Firm, the national outside managing partner services company RJon Robins founded, was named by Inc Magazine as one of the 5,000 fastest growing privately held companies in the Country. Fastest in the category of helping solo & small law firm owners kick-butt and build better law firms that afford them more financial resources and freedom of time to help more clients and have a life.
But In 2008 RJon Robins lost his home to foreclosure. Which is pretty ironic because for 8 years previous, he'd made quite a great name for himself as one of the most trusted resources in the
Country, who thousands of lawyers turned to for help whenever they needed clarity about how to grow and manage their solo & small law firms. RJon first achieved notoriety after struggling with his own solo law firm which he (rather naively) went into it without a written business plan, with no written marketing plan, no written processes or procedures, no job descriptions for staff who ate him out of house & home and no financial controls to see what was happening before it was too late.
The notoriety didn't come from the failure of RJon's law firm to serve his financial, personal and/or professional hopes, dreams or aspirations. That alone would have hardly distinguished him from about half a million other struggling solo lawyers from all walks of life who tilt at windmills all day long (without anyone to be managing partner) in every area of practice, all around the Country.
What brought the notoriety was a stroke of luck. RJon was in the right place at the right time and happened to say just the right thing, to just the right person. That lead to RJon learning how to turn his struggling law firm around and then on the strength of that, he was recruited by The Florida Bar's legendary J.R. Phelps of the world-famous Law Office Management Assistance Service (LOMAS). RJon then invested the next four years of his career learning from the best (and from some of the worst) about what it takes to start, grow, save and salvage and run a perfectly good law firm into the ground. He also learned quite a bit about how do do things the right way and used these skills, experiences and profound insights to help thousands of lawyers build better lives by helping them build better law firms. As as the only lawyers in the history of The Florida Bar to serve as a full time Small Law Practice Management Advisor, RJon spent the years between 1999-2001 working with what The Florida Bar estimates was more than 9,000 solo & small law firm owners, helping some of them to start and build highly-successful law firms that run like real businesses; and helping others to save, salvage and avert total disaster when the long term effects of running their law firm like a noble hobby finally hit home with a big, loud "splotch".
Nowadays when he's not conducting CLE workshops around the Country on behalf of some of the biggest names in the legal industry (LexisNexis, Microsoft, Law Pay, Ruby Receptionists and dozens and dozens and dozens of bar associations, but who's counting) RJon is attending to his duties as CEO of the leading provider of outside managing partner, outside COO and outside CFO services exclusively for solo & small law firms nationwide, or he's out practicing what he preaches about letting your business give you a life instead of the other way around.
Oh yeah, and RJon is a Member of The Florida Bar, he's still authorized to appear before the Southern District Federal Court. He's a member of The Association of Certified Fraud Examiners. RJon earned an interdisciplinary degree from The American University in Washington, DC (Communications, Law, Economics & Government), he graduated from Nova Southeastern College of Law and he doesn't eat ice cream every day but when he does, RJon prefers butter pecan.
START BY DOING WHAT IS NECESSARY
THEN DO WHAT IS POSSIBLE
AND SUDDENLY YOU ARE
DOING THE IMPOSSIBLE
ST. FRANCIS OF ASSISI
REGISTER NOW SPACE LIMITED