What's In The E-Book?
Billing and collecting on those bills is usually one of the biggest reasons that small law firms struggle financially. How much better off would your firm be if you were to immediately collect on your OUTSTANDING AR balances?
How financially strong would your firm be if you had billing practices that prevented the accumulation of outstanding AR balances?
In this book, you will find 12 Creative Billing Strategies that are 100% Legal & Ethical, and that have been PROVEN to WORK over the past 7 years by dozens of solo law firm owners that have grown their firm to $1 million and more.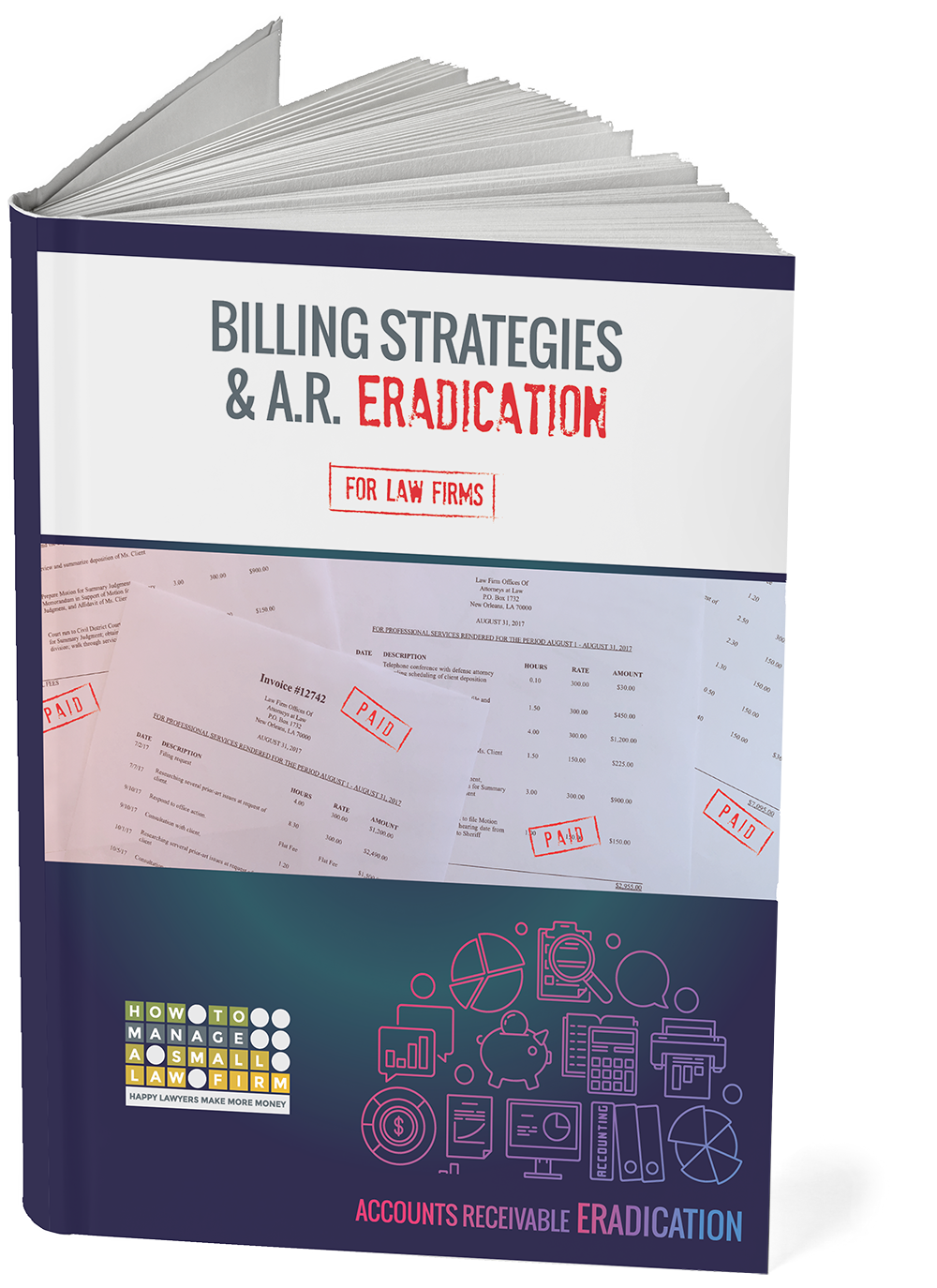 ERADICATE OUTSTANDING A/R BALANCES
In This Free E-Book, You'll Learn:

Creative Billing Strategies that will Decrease Your AR Balance and help to Increase new client intake.

How To Charge Premium Fees for your services and not reduce the total number of new clients that you currently bring in.

How To Properly Structure Your Billing/Fee Arrangements so that your firm can easily and more effectively manage your clientele.

Beat Your Competition by offering billing options that make it easier and more convenient for your clients to pay you your fees.
CREATIVE BILLING STRATEGIES TO
ERADICATE SMALL LAW FIRM A/R BALANCES
Have You Ever Had a potential client with a legal matter that would be very lucrative to your firm, but that potential client had very little or no cash to pay for your fees? Instead of turning them away and losing out on a lucrative case, put these billing strategies in place to guarantee your fees are paid. This Kit Will Equip Your Firm with a dozen different billing strategies that you can offer your clients to make it more convenient and more comfortable for them to pay for your services.
IMAGINE HOW MUCH:
More People You Could Help if you stopped turning clients away due to not being sure if they can pay you your fees.
More Profitable Your Firm Would Be if you increased the amount of clientele you get and had a way to ensure that you're paid for all the hard work that you've completed.
More Relaxed and Less Stressed You Will Be at the end of the month when your AR balance  is 0, and it's because you've collected on all invoices without any issues or sob stories on why it couldn't be paid on time?
100% Legal, Ethical, & Proven To Work
These strategies are all COMPLETELY LEGAL. No need to worry or fear that you will receive bar complaints or grievances for using any of these creative billing strategies. We have hundreds of solo law firm owners, just like you, who have been practicing these strategies for years with clients that are happier and more satisfied that these firms offer billing options that catered to their individual needs. As opposed to most firms, that offer their clients a "one size must fit all mentality" when it  comes to billing and collecting fees.
Is It Ethical to turn away a new prospect, who DESPERATELY NEEDS YOUR HELP, and you know you can help them, but won't because you're skeptical that they have enough cash to pay for your services? Or Is It MORE Ethical to offer that same prospective client some "out of the box" billing options that make it convenient for them to pay and guarantees that you receive payment for services rendered?