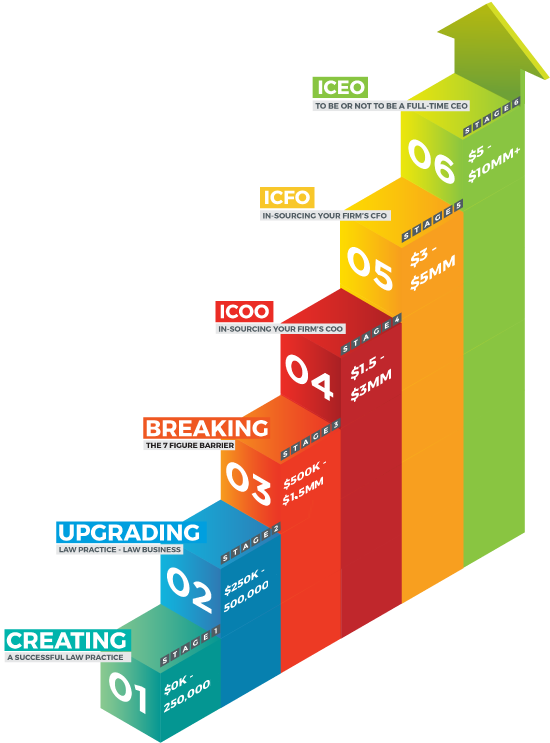 Whether you're barely paying the bills or grossing $1 million plus annually, if you run a single-shareholder law firm and you are serious about growing your firm, making more money, and having fun in the process… our programs are meant for you.
We've worked with thousands of solo lawyers just like you and we've identified the common patterns and the challenges that hold them back. And we've seen that these obstacles evolve as the firm grows. That's why we've divided our programs based on the six distinct stages of law firm growth.
Structuring our programs in this way allow us to provide each member with resources and solutions for the specific problems that they are stuck on. And it allows us to surround each member with a community of like-minded solo lawyers who are struggling with (and overcoming!) the same challenges.
Keep reading to identify which stage your law firm is currently in. Then, follow the appropriate link to see how we can help you grow your firm, make more money, and have a whole lot more fun in the process!
STAGE SIX – REVENUES OF $5M – 10M+.
If you've reached this stage of growth in your law firm, you know you have a decision to make: Continue to be the lead lawyer for the firm's legal work or transition into being the firm's full-time CEO. There is no right or wrong decision here, but either one will require help in transitioning trust.
If you are enthralled by the law and love working for clients and being in court, then you probably want to continue doing legal work in your law firm. That's great, but you'll need to hire a full-time CEO that will manage all other business functions, and work together with you on the firm's business plan and driving it forward. This isn't an easy thing to hand over, especially because you've worked hard to build your law firm to where it is and you want to continue to see it grow. But, a professionally managed CEO will continue to employ your management principles and build your firm according to your business plan.
STAGE FIVE – REVENUES OF $3M – 5M.
Law firms at this stage of growth must have strong financial controls, and more importantly, a good CFO that will leverage the resources needed to double to a $6 million dollar firm in 18 months. That won't happen overnight, and it won't happen with a bookkeeper or accountant who isn't as hyper focused on growth as you are.
More often than not, solo lawyers in this group have been working with financial strategies that aren't necessarily focused on growth, but instead are focused on saving money. We're not saying there's something wrong with saving money, but if saving money is the strategy you're using to double your law firm's revenues – it's not going to work. No lawyer in this stage is going to get to the next stage of growth by saving more money. You're going to get to the next level of growth by dialing up on your marketing, hiring exceptional talent, expanding your law firm, investing in software to streamline processes, etc. All of which cost money!!!
By insourcing your firm's CFO and letting us handle the management and development of this person, you'll have an A-Team player that will help you plan for growth. You need to have this person on your staff full-time so that they fully understand your business plan and where you are headed for growth. A fractional CFO (yes, even our service) is no longer the answer at this level, but you might not know how to manage them and communicate efficiently. Even more so, you might be very afraid of handing over all your numbers to someone who will be a complete stranger. That's why we're here to help.
The iCFO program provides you with a quality CFO that will be driven by growing your law firm by the numbers. Ultimately helping you build a more successful law firm, that is growing profitably and even more efficiently.
STAGE FOUR – REVENUES OF $1.5M – 3M.
When you cross the 7-figure barrier and begin to scale your firm into a multimillion dollar business, your growth is probably starting to take off and really providing you with a comfortable lifestyle.
This is great but you might still feel like at any moment you'll loose the success you've worked so hard to build, or simply stay stagnant in growth because it's hard to imagine doing more than what you're doing now. No lawyer should feel this way, and we're here to help you insource, hire, train, and manage your law firm's COO.
Insourcing your firm's COO will give you FREEDOM. The freedom to do more of the things you want to do, and move on to something bigger if that is the case. Because you're an entrepreneur. And so you're always ready for the next challenge!
Your COO will help run your law firm's operations according to the business plan you continue to develop and pivot for success. This key member of your staff should be managing your team, ensuring policies and procedures are followed, alerting you of red flags in the business, and most importantly, will be managing to your expectations. But, if you've hired us it's probably because you have never managed a professional COO before and are getting help.
Our professional team will help you manage a qualified COO that will propel your business forward – not just a glorified office manager that will be good at doing whatever you ask of them. You'll find that once you have a COO in place which we help manage, your firm will give you peace of mind, your staff will be happier, and work will be getting done better than it did before!
With our help, your COO will make a big difference in getting from $1,500,000 in revenue to over $3,000,000. You should be ready to let your curiosity about your own potential and your desire to be passionate about your life and work, overcome your fear of change. Because what you're about to experience with the freedom of having a professionally managed COO, will change your life.
STAGE THREE – REVENUES OF $500K – $1.5M
If you're grossing over half a million dollars per year as a solo attorney, you've already identified and overcome a great deal of obstacles that trip up most of your fellow lawyers.
But now it's time to break the seven figure barrier.
First, the good news: despite what some of the naysayers (read: losers) may think, you ABSOLUTELY can earn seven figures as a lawyer. We've helped plenty of our members do exactly that.
But it's important to understand that what got you this far won't get you past the seven figure barrier. You're going to face a new set of challenges. You're going to face problems that you never anticipated.
In this stage of our program, you'll learn what it takes to overcome these challenges and step into the exclusive million dollar solo lawyer's club.
The program starts with a 12 week crash course. You'll be assigned a Chief Executive Officer, a Chief Operating Officer, and a Chief Financial Officer who will work with your bookkeeper to extract key financial reports and help you move forward based on the numbers. You will have access to our exclusive membership website and discussion forum, and you'll get two tickets to attend the live quarterly meeting each quarter.
If you're ready to break the seven figure barrier… let's get started.
STAGE TWO – REVENUES OF $250K – $500K.
If you're grossing over $250K annually, you're obviously doing some things right – so congratulations on your success!
But the challenge you're likely facing is how to turn your law practice into a law business. Right now, your practice is heavily dependent on YOU. If you went on vacation for thirty days, your practice would grind to a halt. In this stage of our program, you'll learn how to create a business with systems in place that will allow your firm to thrive, with or without your presence!.
Upgrading your law practice into a law business allows you to work reasonable hours. It allows you the flexibility to spend time with your family. It gives you the opportunity to take vacations without worrying about what's happening in the office. Ultimately, it allows you to make more money and have a heck of a lot more fun doing it!
This phase of our program begins with an accelerated 6 week crash course. You'll be assigned to a Chief Executive Officer as well as a Chief Operating Officer who will help you develop critical internal and external policies as well as operating procedures. You will have access to our exclusive membership website and discussion forum, and you'll get two tickets to attend the live quarterly meeting each quarter.
Take the next step in upgrading your firm from a law practice to a law business.
STAGE ONE – REVENUES OF $0 – $250K.
Whether you've just launched your law firm or you've been at it for a while but just can't seem to crack the $250,000 mark, your challenge is to learn what they never taught you in law school: how to MANAGE a law firm, not just practice law.
Here's a secret for you: the financial success of your law firm has little to do with your intelligence. And it has little to do with how good of a lawyer you are!
What matters is whether or not you understand the business of running a law firm. Until you learn how to build and manage a business, no matter how good you are at practicing law, you're going to struggle. You're going to work way too many hours, make way too little money, and chances are you're going to be miserable.
The good news is that our program and our community will get you up to speed… quickly!
You'll start with a 12 week crash course in which you'll learn the basics of managing a firm… the things you never learned in law school! Then we will assign you a Chief Executive Officer to help unpack the business plan we help to build in those 12 weeks. You will meet with your assigned Chief Executive Officer about once a month, have access to our exclusive membership website and discussion forum, and you'll get two tickets to attend the live quarterly meeting each quarter.
You'll learn how to sidestep common mistakes that hold many lawyers back. You'll learn how to attract clients and cases that you actually enjoy working on. You'll learn how to make more money and have more fun in the process. What are you waiting for?