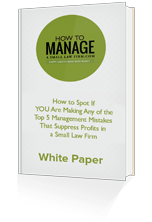 Are you holding your law firm back by making shockingly common management mistakes?
Download our complimentary Special Report to find out!
How To Spot If YOU Are Making Any Of The Top 5 Management Mistakes That Suppress Profits In A Small Law Firm
Simply provide your email address below for instant access:

Oops! We could not locate your form.